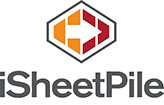 About
Sheet Pile LLC is the exclusive supplier of PilePro Group of Products: PilePro Connectors, O-Pile wall systems and WADIT = Watertight sealing system.
Please go to SheetPile.com for more details.
---

PilePro® connectors support all common system connections, including Larssen interlock, ball-and-socket, cold-formed and flat web sheet pile from the world's sheet piling manufacturers.
PilePro® product design increases efficiency for all sheet pile projects, because our connectors are:
Easily and efficiently transported with minimal risk of damage
Available on a Customer Quick Delivery basis direct to the job site, so you can build immediately and reduce inventory
Easier to drive and extract, reducing project time
Have greater flexibility within the interlock – typically 10°-20° of swing versus 2- 5°
PilePro® connectors are more reliable than traditional fabrication in availability and use.
One-piece construction means never relying on a corrosion-prone welded connection
Connectors are less expensive than fabricated corners and available for immediate delivery see 24 hour delivery map.
Please note:
The possibility of adjusting the profiles in the area of the interlock can vary due to size and rolling tolerances found in sheet pile interlocks.
All angles specified are approximations and may vary
PilePro® connectors are protected by patents
PilePro® connectors are subject to technical modifications
Typical delivery terms and conditions for PilePro® connectors are in accordance to ASTM or EN 10248
---

Steel sheet piles sealed with WADIT®, particularly in marine environments, are vastly superior to walls left unsealed, or that use inferior sealants. Via PilePro® , WADIT® can be applied worldwide by a veteran installation crew, ready to roll to any job site anywhere. CLICK HERE to learn more.
---

Pipe Sheet Pile® solutions for deep foundation, high capacity walls make those walls stronger, safer and more durable than all previous approaches. Utilizing local sources within a global alliance, O-Pile®, as the authorized lead partner, ensures that superior pipe walls can be built faster, less costly, worldwide. CLICK HERE to learn more.
---

Finally, steel sheet piling projects can be self-designed online, utilizing a half-dozen highly precise comparison tools. iSheetPile® revolutionizes sheet pile combinations, from planning stages to delivery, all with the click of a button. CLICK HERE to learn more.
---
Sheet Pile LLC, formerly iSheetPIle LLC is a US company managed by the former executive director of the North American Sheet Pile Association. NASSPA published neutral documents related to sheet pile you can find with the enclosed links:
Interlock strength and local production is the key to a success and easily delivered and installed sheet pile for you job in the USA or Canada.
Sheet Pile LLC is dedicated to providing local solutions for the sheet pile contractor and their steel sheet pile suppliers, regardless of type or origin.
---
CONTACT US
Sheet Pile LLC
Phone: 866-666-PILE (7453)
---
Contact Us
Phone: 866-666-PILE (7453)
Email: info@isheetpile.com
---
Speak to a technical expert who can walk you thru the site
iSheetPile is ready to assist you on any issue concerning steel sheet piling.
To schedule a technical conference with an engineer, please use the following form to leave your name, company, phone number and a good time one of ours senior engineers can call you.